Aftermarket VIO (vehicles in operation) are seeing an important shift. Aftermarket VIO is designated by vehicles aged 6+ years, and are vital to shops like you. 6-speed transmissions have been steadily growing over the past five years as these models have outgrown OE warranty. 2022 marks the first year where 6-speeds had the highest volume bucket, surpassing the long run of 4-speeds. Are you ready to accommodate this shift? Let ETE help you out!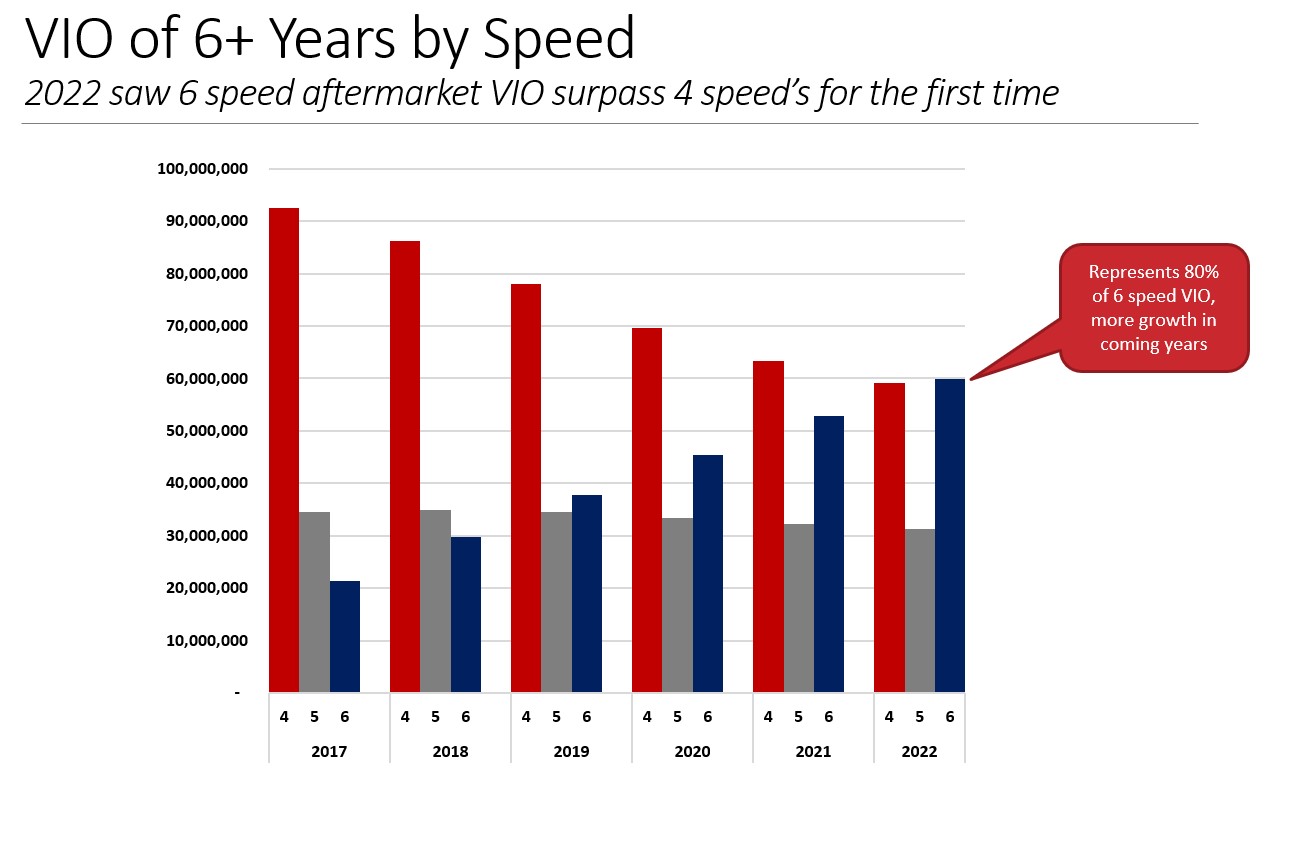 The 6-speed transmissions paved the way for the first major production of computerized transmissions. For your shop to thrive in these new market conditions, you need to have the right programming tools. The transmission control module (TCM) is responsible for the efficient function of your transmission. It gathers real-time data to adjust your transmission and guarantee it is running smoothly. Although you may be used to focusing on 4-speeds, the 6-speeds can face serious trouble if programmed incorrectly. Some of the most common signs are gear slippage, sudden or no shifting, failure to accelerate, and more. Make sure you know that you have the correct programming tools, and save yourself some additional trouble down the line. 6-speeds won't be going away anytime soon.
As we said, 6-speeds aren't going away anytime soon. This is not to say that only 6-speeds will be taking over the aftermarket. The 4-speed held the crown for quite some time, but we don't expect the 6-speeds to have the same length of reign. Although the 6-speeds are the immediate future, and something that needs to be front of mind, there is still significant growth in the 8,9, and 10-speeds. With the pressure for better fuel economy, OE production has significantly ramped up. 2023 North American OE production is estimated to be around 10.7M automatic transmissions, with 8/9/10 speeds accounting for 85% of this production. This upward trend in production has started as early as 2019. It's better to start preparing your shop to work with these transmissions sooner rather than later before they hit the aftermarket in larger quantities.
ETE REMAN offers a wide range of remanufactured 6-speed transmissions. These 6-speeds include OE improved designs of popular models including the 6L80's and 6F35's. These transmission options can help your shop with the influx of 6-speeds you're sure to be seeing. You can check out our offerings on buyete.com or call us at 800-934-9479.
Another great way to stay up-to-date on the 6-speed aftermarket growth is to stock your shop with handy repair manuals. ATSG offers TechTran manuals to help rebuild and repair 6-speed transmissions when you need it most. Head over to atsgbookstore.com to learn more!
ETE REMAN is happy to bring you the latest market updates and information to make sure your shop is ready for anything. Our blog and monthly newsletter is jam packed with all the stuff you need to know to help you grow! Subscribe below to make sure you don't miss a drop!