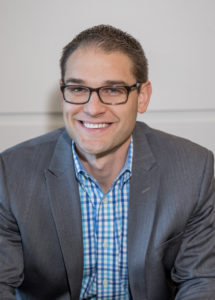 ETE REMAN invests in its people by helping them become their very best through training, education, and personal and professional development. That's been core to our success. We tell people during the interview process that if this is the best they will ever be, they shouldn't work here. We are doubling down on this imperative by bringing on a full-time, in-house Director of Training & Development. And, in true ETE REMAN fashion, we didn't just find a dull and formulaic facilitator or instructor to check the box on having a training department. No— we went out and found the most inspiring, impactful, and influential leader we could. We are very proud to announce that we have hired the great Derek Deprey to head our newest venture.
Derek comes to ETE most recently from the Wisconsin Athletic Club, where he was responsible for teaching over 1,000 team members the core principles of leadership, training, and personal development. He is the author of the book, "Shift: Move from Frustrated to Fulfilled," a national speaker with Fortune 500 company experience, a certified John Maxwell facilitator, a former NBA video scout with the Milwaukee Bucks, as well as coordinator of NCAA basketball operations at Marquette University and director of player development with the University of Utah.
Because we believe in JFK's assertion that "leadership and learning are inseparable from each other," we've asked Derek to start by building an on-going training program for our managers, supervisors, and line leaders. Here's a sampling of what Derek will accomplish at ETE REMAN:
Help our managers and supervisors evolve into leaders and coaches
Further the understanding of and commitment to ETE's core values
Give people who want to get better the path to get better
Teach by example
Regularly contribute to our e-zine, REMAN U, with articles/videos that are valuable to our customers and industry partners
Speak at tradeshows/conferences as an ETE representative
Derek's first day of work at ETE will be November 2nd, 2020. Stay tuned for more exciting news on this front.