You know the 6T75E as the 6-speed transverse transmission found in many GM sedans and crossover SUVs from 2007-2017.One important fact you might not know, and we're excited to share with you, is this transmission is entering its demand sweet spot and ETE REMAN is prepared to help you meet that demand.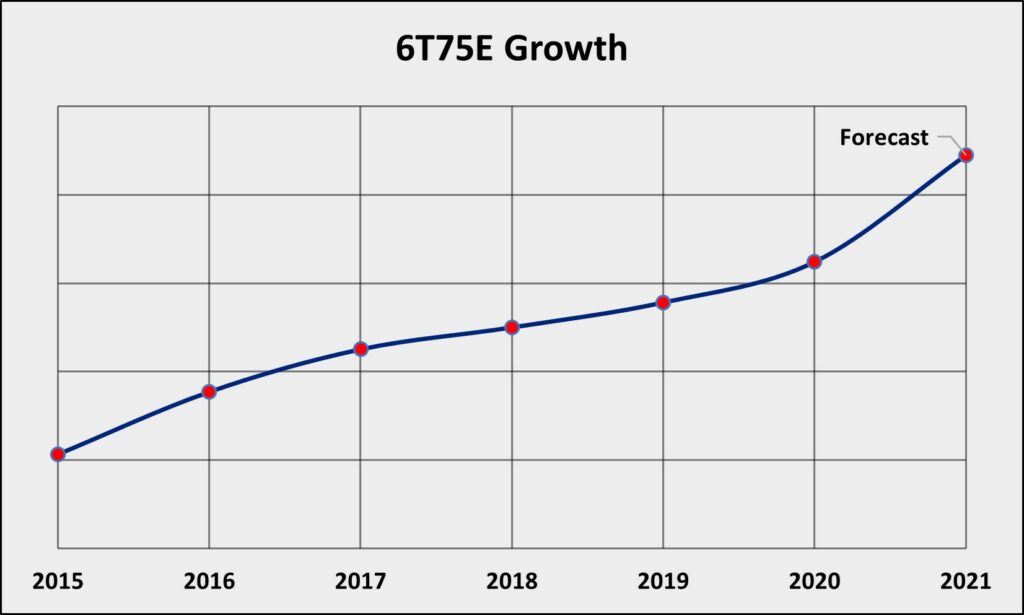 We've seen 70% growth over the last 5 years on the up-and-coming 6T75E and forecast another 30% climb for 2021.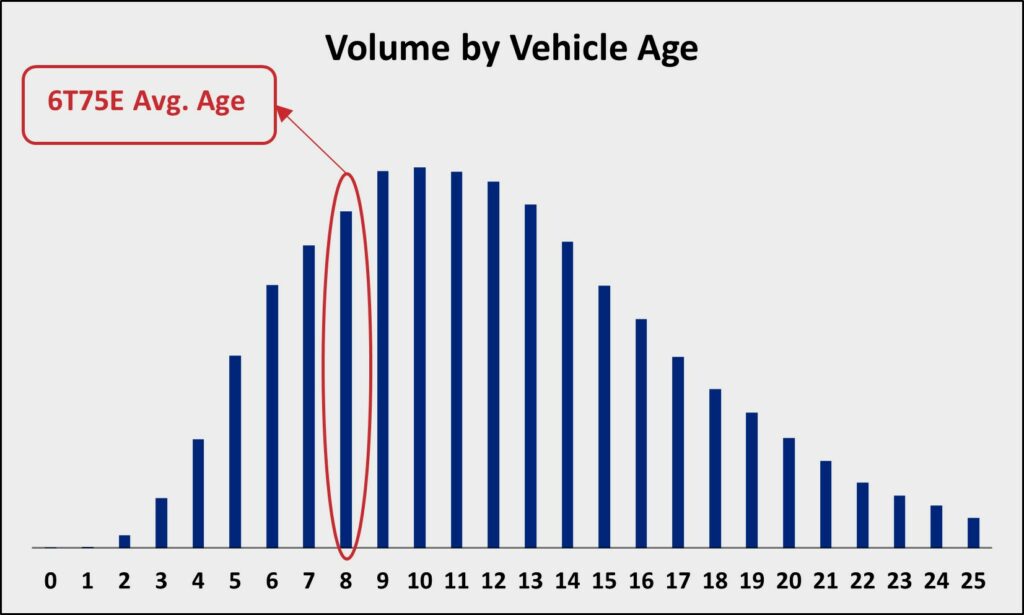 This "Volume by Vehicle Age" graph shows the 6T75E on deck and ready to step in the batter's box to hit solid sales figures for your team starting now and into the foreseeable future.
Our 6T75E is like new, only better!
-Fully remanufactured torque converter tested for leaks, lockup, concentricity, and balance eliminating the possibility of front seal leaks, premature bushing wear, and vibration.
-New and upgraded 4-5-6 & 3-5-R clutch housing due to high OEM failure rates.
-Remanufactured valve body includes oversized valves and new o-ring end plug kit to improve shifting, lubrication, and performance.
-Transmission Control Module (TCM) tested for proper function of pressure control solenoids, shift solenoids, and pressure switches.
-Clutch clearances set to custom-spec standards for improved shift, feel, and timing.
-Tru-Flat qualification process applied to transmission case, valve body, pump, and channel plate prevents cross leaks and pressure losses.
-Every transmission is cold-and hot-tested using a proprietary dynamometer testing program that includes fully synthetic automatic transmission fluid and a filtration system.

With a 6T70 series transmission, the technician may find that the vehicle sits high and has a harsh ride after being on the hoist for an extended period. This applies specifically to the 2007-2012 Buick Enclave, Chevrolet Traverse, GMC Acadia, and Saturn Outlook.
The front struts may develop a harsh ride and/or remain fully extended after lowering the vehicle from the hoist. This is more common in regions with high heat and/or repeated use on rough roads. A rebound bumper internal to the strut can wear and produce a fine sediment that may become suspended in the fluid inside the strut. When the strut is left in the fully suspended position for an extended period, this sediment can plug the orifices in the strut valving and cause the strut to remain in the fully extended position, causing a harsh ride.
A thorough road test over a rough road or speed bumps may return the struts to their normal operation. If the strut does not return to normal operation, it will be necessary to replace the strut(s).
To prevent this problem, after removing the transmission, immediately lower the vehicle back to the ground to put a load back on the struts.