Now that we are settling into a new normal in a post-pandemic world, ETE is taking a look at how mileage varies between make and models of the top manufacturers.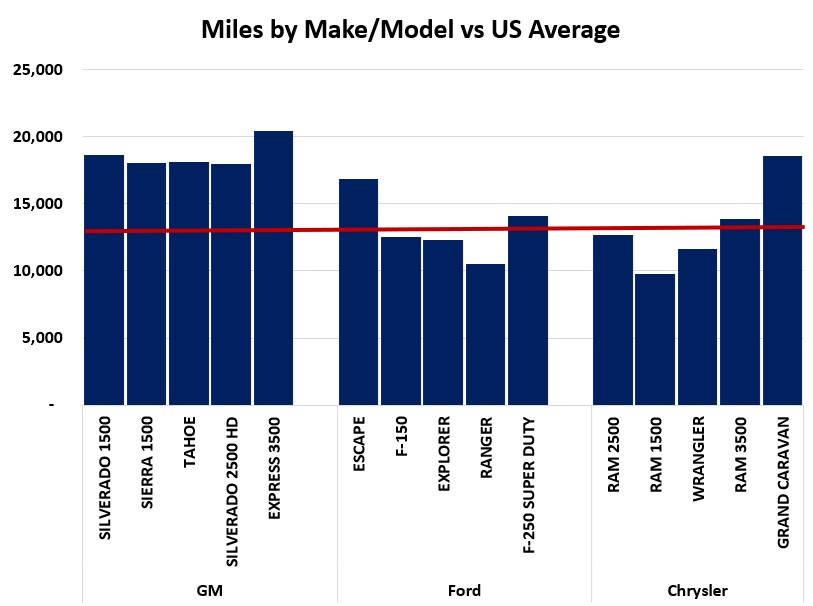 Without a doubt, there is a clear trend of GM vehicles being driven more than other large domestic manufacturers, such as Ford and Chrysler. Not only is GM seeing more mileage over other manufacturers, but also more than the national average of 13,476 miles.
Most of the models seeing increased mileage within GM are intuitive to many. These larger models are generally taking greater payloads and doing more commercial work. This is an uptick from during pandemic, when vehicles needed for commercial work were not as high in demand.
A newer emergence that we are seeing is the rise in Ford Escape. Ford Escapes are averaging almost 17,000 miles per year, well above the national average. Many of these additional miles are attributed to a surge in home delivery demands during the pandemic, such as Amazon or food delivery. Although we are settling back into normal levels post-pandemic, the demand for home-delivery options has not slowed down, which could lead to a continuation of this trend.
One thing that has stayed tried and true pre-and-post pandemic is the Chrysler Grand Caravan. A favorite for families and passenger trips, the Grand Caravan even surpasses the growing GM mileage on all but the Express 3500. A surprise to some is models such as the RAM 2500, RAM 1500, and Wrangler all coming in under the national average for mileage trends.
ETE REMAN is happy to bring you the latest market updates and information to make sure your shop is ready for anything. Our blog and monthly newsletter is jam packed with all the stuff you need to know to help you grow! Subscribe below to make sure you don't miss a drop!