Yeah, that's what I said! Even though we have the most polite, knowledgeable, helpful, and possibly best-looking customer service representatives on the planet, you may not have to talk to any of us. On the rare occasion that you need to start a warranty claim, you can now do it quickly on BuyETE.com! It's easier than pullin' a pan, and you can initiate a claim without picking up your phone (unless, of course, that's how you access BuyETE.)
Login to Buyete.com
Click on "Shipments/Core Returns"
Find the Correct Order
Click on "Initiate Warranty Claim"
Follow the Prompts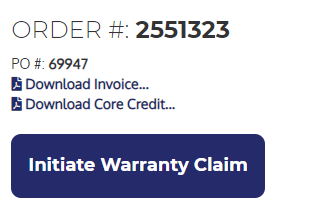 But wait, there's more! Check out these ways you can use BuyETE to avoid talking to us.
-Place orders
-Schedule core pickups
-Find and download invoices
-Track shipments
-Get accurate delivery times
-Download installation guides
-Buy other great remanufactured products like: Differentials, engines, transfer cases, hybrid batteries
-And, yes, start a warranty claim
No, you can't schedule a grooming appointment for your dog, but we're working on that. ETE is adding new features to BuyETE.com all the time, so if there's something you'd like to see, let us know! We're growing our products and online services every day, so GET TORQUED at Buyete.com!