Earlier this year, ETE REMAN's machine shop expanded in our main facility, largely to make room for improved processes and new machines to increase our production of parts to improve the quality of our remanufactured transmissions. In Quarter 3, the machine shop welcomed a Haas UMC-750SS 5-Axis CNC Machine to the ETE Family. Coming in at just under 14,250 lbs, she's a beaut and all we hoped she'd be.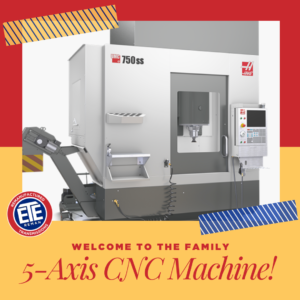 The UMC-750SS has taken up its place in the family, now integral to the production of valve bodies. What was once a time-consuming manual drilling process, is now, fast, clean, accurate, and superfine. It probably takes more time to load the valve bodies into the machine than for the machine to do its job.
More space, more machines, more quality parts? It's an exciting time to be in the ETE Fam.