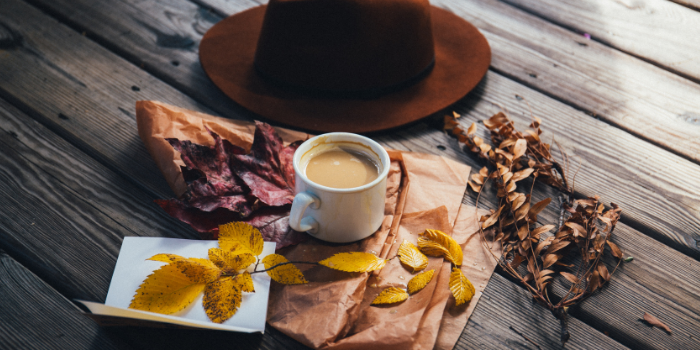 Fall is making herself known already this year. Parents around the country are doing some version of back to school, here in Milwaukee it's sweatshirt weather, and on a walk with my son, he picked up the first red leaf – and to cap it all off, my husband, at the end of this same walk, handed me a surprise pumpkin spice latte and something important occurred to me: there is never a better time than now to take in and appreciate the little things.
There can't be red leaves falling and pumpkin spice lattes every day (…c-can there?), so, how do we in our day to day work week and life find those things that just bring joy?
Stop, drop, and savor the moment when it's upon you. On the car ride home, we talked about the autumn cliches – people who lose their minds over sweaters and over-priced pumpkin flavored things. Yes, it's cliché, and dare I say, basic, but life is hard, and fall is short – let's just enjoy the lattes. Or, if you're my mom, a late-in-life discovery of: the margarita! I wouldn't drink one every day, but hey, if you can take that much acidity in your drinks, mom, you go girl.
Take time to reflect. I've gone on and off of journaling all my life, but I find that when I do take the time to take some notes about my work day or my life, I find a lot of time to complain or expound on my troubles, but taking the time to really find those good moments in your day exercises an oft underused muscle in our minds, one that has the potential to unlock more and more gratitude and genuine contentment. Find a highlight, write it down, or hold it close in your mind and do the same every day.
Phone a friend. I don't actually phone a friend, I'm wired to avoid phone conversations, but now more than ever speaking to someone, telling your story, sharing your experience should be considered a charitable act. There is so much BAD NEWS in every medium at every touch point. Let's share some good news, a story, a song you like, a latte in the hand of someone who needs a pick-me-up. I can almost guarantee the experience of talking, telling, sharing your PSL (pumpkin spice latte) moment will be a highlight in itself for you.
There is a lot of room in our lives to feel cynical, to malign things that we may not prefer, and to feel glum (at best) about the circumstances outside our control. So, it's fall more or less. It's probably the most universally celebrated American season. Find your PSL. Find the leaves. Enjoy the little things. It's the least we can do.