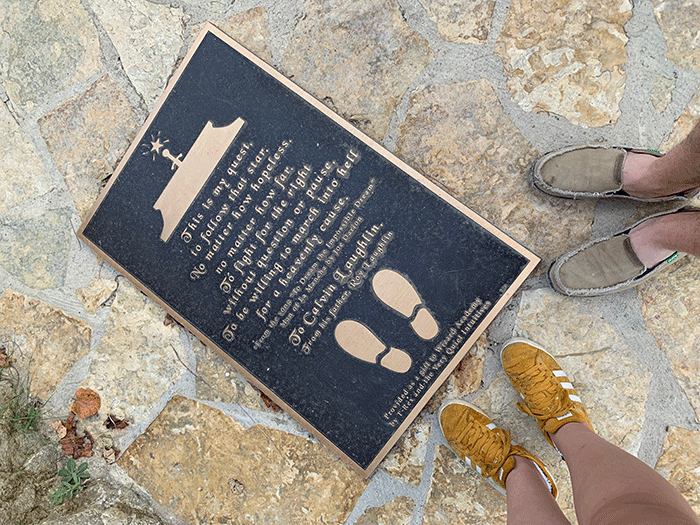 This is my quest, to follow that star
No matter how hopeless, no matter how far
To fight for the right
Without question or pause
To be willing to march
Into hell for a heavenly cause
As I heard the bells ring loudly one last time in the Chapel Dulcinea before I left for home, I stared down at a plaque in the stone that had this passage inscribed in it. I had been staying for a few days at an academy just 30 miles outside of Austin, Texas for a video conference, whose message to their students is simple: To Dream the Impossible Dream.
Now, I'm a self-admitted sucker for these "follow your dream" mantras so the academy I stayed at had me dead to rights. Even though my video conference was two days, I ended up staying on campus for four. This wasn't your ordinary academy where you stay in a dormitory with roommates and walk to class each day. Each day consisted of waking up to the sound of a lone rooster crowing in the distance, letting the world know that the new day has started. At 8:20 am I walked 300 yards up a hill from the manor that I was staying to a real-life 5-story tower where my class would be taught.
Every day was a new experience at this academy: A chapel where I could witness people getting married throughout the day, a whiskey distillery owned and operated by the staff, sculptures and hidden symbols found around every pathway scribing to me things like "In choosing one path, we ignore others and wonder what might have been."
I started out taking a two-day video course and it turned into a four-day lesson in self-discovery, networking with other students, and experiencing the wonders the academy had to offer. I'll admit, I left this strange and wonderful place pondering my own chosen path, but in the wake of that I feel the experience taught me an important lesson. I stopped everything in my extremely busy life to take some time for self-development and ended up extending it two more days. In a world of limitless distractions, if people give you time, you win.
This to me is what success is. The single most important factor to a person or a company's success is time. It's why almost every company claims to treat their employees like a family. Who do we give most of our time to? Family and loved ones, and when you have people in your life that want to help you succeed, you're doing something right. They're giving you their time, and it's more precious than ever before.
I spent years mastering my craft, making sure I knew the right words to say, the right things to do, the right skills to have, and while all of that is still very necessary to have, it never once helped me get my foot in the door. I am where I am today because of meeting and networking with like-minded people and giving them my most precious commodity: my time.

Giving my time builds trust, it builds lasting relationships, it lets others decipher whether giving their time to me is worth it. Learning to balance my time is a constant 'work in progress'. On a regular day, I need time to work on my projects, be a good boyfriend in my relationship, be a good son for my parents and family, be a good friend with my friends and writing partners and finally, if I'm lucky, a little 'me' time.
The hardest part of this list of hats that I wear though is the consistency. I can't juggle my time between those things for a week or two, I need to consistently juggle my time to achieve sustainable success. With consistency comes reliability and with reliability comes other people's time. If people can sense your efforts, over a consistent amount of time, they will begin to trust what you do and what you have to say.
Through the four days I was in Austin, TX, the academy I attended consistently grabbed my attention and my trust through visual landmarks, and extremely valuable content. I can't wait to go back someday, which means they have successfully taken my time and I will willfully give them more in the future. "Time is money" is not some cheesy aristocratic phrase, it is arguably the foundation to all of our successes. Decide in your life today where your time is valuable and what has been a waste and fix it immediately. You'll be amazed where else you can use that new free time.
All I can say to you now is thank you for taking the time to read this.